Community Profile

Melody of the Abyss
To Redefine the Meaning of "Existing" RPG
Free Account
Created on 2012-05-03 19:57:49 (#1612944), last updated 2012-05-03 (280 weeks ago)
1,817 comments received
148 Journal Entries, 67 Tags, 0 Memories, 1 Icon

About
| | |
| --- | --- |
| Name: | Melody of the Abyss |
| | |
| | |
| Membership: | Moderated |
| Posting Access: | All Members |
| | |

Mini Bio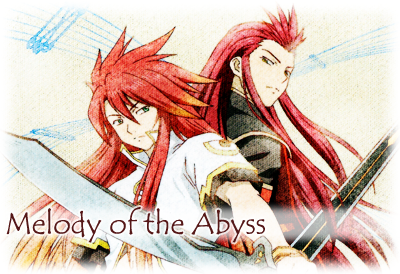 The world of Auldrant, comprised of seven different fonons, has entered its year ND 2018. The kingdoms of Kimlasca-Lanvaldear and Malkuth have dominated the globe as the two major world powers, their fragile relationship ever uneasy over a land stained with spilled blood. The fact that Daath, headquarters of the Order of Lorelei, holds the Score above their heads doesn't help matters.

Welcome to Melody of the Abyss. Melody of the Abyss is basically an alternate universe retelling of Tales of the Abyss. All canon characters make their appearance in this new world.

While Melody of the Abyss is based off of Tales of the Abyss, other Tales of games characters may be incorporated into the main story. Melody of the Abyss has room for improvement and new ideas, so don't feel intimidated to suggest or try new things. You may be creative in trying to write in a new story of Tales of the Abyss.


O T H E R I N F O R M A T I O N

About the RP || Method of Play || Rules/F.A.Q.
World || Timeline || In Game Calendar
Reservations || Application || Taken Characters || NPC Roster
Archive || Roster/Contact List || Glossary
Suggestion Box || Affiliates || Hiatus Post || Drop Post


abyssianmelody ||
abyssianooc ||
modoftheabyss
abyssiandress
Head Mod
atelierjoh
Assistant Mods
dizzily
Stylesheet by
refuted

Connect
alternate universe
, arche klein,
arietta
,
auldrant
,
chester barklight
,
chloe valens
, claus f. lester,
colette brunel
, cress albane,
estellise sidos heurassein
,
flynn scifo
,
genis sage
,
grune
,
guy cecil
,
ion
,
jade curtiss
,
jay
,
judith
, karol capell,
kratos aurion
,
legretta
,
lloyd irving
,
lorelei
,
luke fon fabre
, mint adenade, mohs,
moses sandor
,
natalia l.k. lanvaldear
,
norma beatty
,
presea combatir
,
raine sage
,
raven
,
regal bryant
,
repede
,
rita mordio
,
roleplaying
,
senel coolidge
,
sheena fujibayashi
,
shirley fennes
,
suzu fujibayashi
,
sync
,
tales of destiny
,
tales of eternia
,
tales of innocence
,
tales of legendia
,
tales of phantasia
,
tales of rebirth
,
tales of symphonia
,
tales of the abyss
,
tales of the world
,
tales of vesperia
,
tear grants
,
van grants
,
will raynard
,
yulia jue
,
yuri lowell
,
zelos wilder
Administrators

Linking
To link to this user, copy this code:
On Dreamwidth:
Elsewhere: